Summary
Google Docs is accessible from any device, using any modern web browser. While Microsoft users can install Word and other 365 apps on only five devices, Google allows users to access Google Docs and the rest of Google Workspace on an unlimited number of devices.
User-friendly features make MS Word a preferred processor for most people in educational areas. Google Docs is a preferred productivity suite by tech-savvy users who enjoy working online and require access to their documents on multiple devices at all times.
Google Docs vs. Microsoft Word
There's no question that Microsoft Word has many more features than Google Docs. So, if you want severe formatting and layout work, then Microsoft Word is your app. But, if you're doing only basic word processing, then Google Docs may be all you need.
Docs are accessible from any device, using any modern web browser. While Microsoft users can install Word and other 365 apps on only five devices, Google allows users to access Docs and the rest of Google Workspace on unlimited devices.
Compare Microsoft Office and Google Docs?
It can be a daunting task to find the right Word processing software for you. Some are free; others need a monthly subscription. You want something that is easy enough for everyone to use and has all the features you need. But too many features become complicated and confusing.
The question then becomes: what program do I choose?
Read: Microsoft Word Keeps Freezing in Windows 10 - 10 ways to fix It

The Key Difference and Similarities Between Google Docs and Microsoft Word
Word or Google Docs can handle their own when it comes to filing compatibility. Both can open standard word formats and process extensions like HTML and PDF. The most notable difference in compatibility is when saving a Google Doc file, you will need to save it as a Microsoft Word compatible file or simply convert it.
Do you want to know how to choose between Google Docs and Microsoft Word?  Let's look at the two office productivity tools in the market today.
A comparison of available features will touch on the critical differences between the two apps and help you pick the best one for your unique needs.
For Windows users, Microsoft Word is one of the most famous programs for writing all sorts of files. It's easy to use and comes with all Microsoft Office suites. The desktop version is powerful enough to meet your needs in many scenarios. Microsoft Word also has a companion app compatible with iOS and Android devices that offer basic editing features on the go.
Google Docs started as a Microsoft Word alternative. It doesn't replace Word, but it's a good substitute. It's free and can be used from anywhere with an internet connection. Google Docs is compatible across all devices, as it's hosted online rather than installed on your PC. It offers limited features but comes with great add-ons developed by the community.
Files on Google Docs are stored as one type, although you can download a file in different formats, including DOC, DOCX, PDF, RTF, plain text, and HTML. Microsoft Word offers a wider variety of file formats to save your documents.
Google Docs Vs. Microsoft Word Comparing Main Features
Let's first compare their main features to give us a better understanding of the two productivity suites.
Microsoft Word Features
Word is a product from Microsoft, helping users create documents with ease. The modern Office versions come with ready templates users can apply to documents such as assignments, reports, resumes, etc. Here are the 4 core features of Microsoft Word. 
Availability: You need to install Microsoft Word on your device yo use it. You can install it on a Windows (MS Word for PC) or Mac (MS Word for Mac). You can also install it on android devices and iOS (iPhone & iPad). Because the program is compatible with virtually all operating systems on desktop and mobile devices and readily available on multiple devices, people are familiar with how it works since.
Powerful Document Processing Capabilities. MS word was incepted in 1989, and since then it has undergone tremendous changes to fine-tune its functionality, efficiency, and suitability. It's become both 'previous' and modern users and fits all tech generations. It's also the ideal word processor for manuscripts that require indexing, a dynamic table of contents, multiple chapters, unlimited text formatting, and image positioning control.
Seamless Integration. The seamless integration is arguably a key aspect that gives MS Word a higher cutting edge. You can use it alongside other programs, such as Microsoft Excel, to complete previously difficult tasks, such as importing charts and graphs from Excel to a Word document and vice versa. You can also integrate it into different software. Such integration not only improves efficiency but also enhances productivity.
Wide Array of Templates. Microsoft Word comes with a wide array of templates you can use to create impressive documents, such as resumes, on the fly. All you have to do is type documents, change the placement of images, text, and other elements to make the document your own.  
Google Docs Features
In retrospect, Google Docs is an intuitive online (internet-based) word processor. It can be used to create word documents on multiple browsers and is available to everyone with a Gmail account.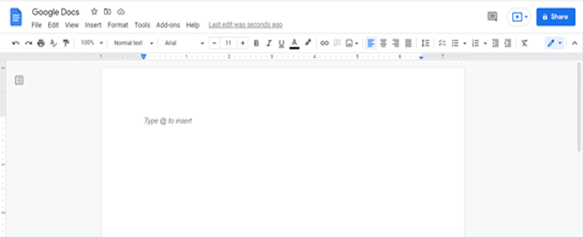 Web-Based. Google Docs is web-based: you don't need to install it on your device to use it. All you need to do is create a Gmail account and sign into it. Docs is then displayed in the Google Apps menu when you hover the mouse over your Gmail account profile picture. Because it's web-based, you can access your files on any computer, tablet, or smartphone anywhere, provided you're connected to the internet. 
Promotes Teamwork. Google docs allow collaboration on different documents. Teams with access to a shared Google Doc and have editing rights can collaborate on a project when working in an office or remotely. Especially when working asynchronously, Google docs allows users to give feedback or make assessments easily.  The edits on Google docs are in real-time, and users can add comments and notes. The primary owner of the document can control co-authors' access levels from read-only and commenting to suggesting and editing.
A Plethora of Editing Features. Like Microsoft Word, Google Docs has plenty of features that allow users to create documents easily. You can customize the document by formatting the text, inserting images, tables, and page numbers, and using different paragraph styles to achieve the desired visual effects.
100% Free. The beauty of Google Docs is that it's 100 percent free for all. However, the space in your Google Drive will dwindle over time, prompting you to pay for additional storage space.
Google Docs vs. Microsoft Word: Which One Should You Use?
With these essentials of both applications in mind, let's compare them.
1. User access or Accessibility - Cloud-based and Full cloud functionality 
We are increasingly becoming a mobile workforce. Whether we are at home, on the company's premises, or on vacation, we want to access our files as quickly and quickly as possible. Microsoft Word is Microsoft's flagship product that has been used for decades. It is available almost everywhere – from your mobile phone, and tablet, and when you reconnect to a PC.
Google Docs is even more accessible because it's cloud-based and has full cloud functionality like the rest of Google Workspace. You can view and edit your documents on Google docs from any browser and any device. You just have to log into your Google account. While Microsoft Word doesn't allow you to view and edit Microsoft Office files without Microsoft Office installed, Google Docs allows you to do so, as it's a browser-based app on an unlimited number of devices.
In this category, Google Docs wins, but Microsoft is also starting to make its products more mobile-friendly. Microsoft Office apps for Android and iPhone devices have taken a good step.
2. Pricing
Microsoft Word and Microsoft Office both come at a fee. If you don't want to pay, you can't legally have access to this software. That's something to remember when deciding which app to invest in.
Purchasing Microsoft Word as a standalone product will cost you around USD 139.99 at Microsoft. Alternatively, you can subscribe to Office 365 for $99.99 a year or $9.99 monthly.
Google Docs? 100% Free 
Google docs is free and available to any user with access to a browser and an internet connection. However, the space in your Google Drive will dwindle over time, prompting you to pay for additional storage space.
3. Reliability: Automatic auto-save & simpler file organization
Take it from someone who frequently works with Google Docs. There's nothing more frustrating than being unable to edit a document because the internet connectivity is having issues. Since Docs is browser-based, it requires you to have a stable internet connection in order to view, edit, and save files.
Microsoft Word is always available to you, even with no internet connection. Microsoft creates its own clouds with Microsoft OneDrive and Office 365 to ensure you can sync files across multiple devices, too.
Remember that losing your files is more likely when you work with Word. Since Google Docs is online, autosave is automatic and saves your document every few seconds in Google Drive. Users can always access their files, regardless of the browser they're using or which device they're logging in from. They don't have to worry about carrying around flash drives or emailing files to themselves. Also, IT admins can set up team (shared) drives and folders according to job functions, department, project team, etc.
Microsoft Word only saves your changes periodically when connected to your Microsoft account online or has the autosave feature enabled. Furthermore, Microsoft offers an autosave feature, but it's not turned on by default. This autosave isn't available if a user is saving a file to their local device. 
We can't give a clear winner here, so it's up to your preferences which application you choose to work more reliably.
4. Interface and Features
Google Docs is highly user-friendly and relatively streamlined. While it's easy to pick up and master, the lack of features may knock off some points for most users. It's barebones compared to Microsoft Word, especially without any third-party add-ons.
Microsoft Word can be overwhelming and challenging to get started with, but taking the time to learn everything may be more beneficial. This software goes up above and beyond to provide every tool you could ever need when writing just about anything.
Microsoft Word comes with a variety of templates that you can use for various projects, such as resumes, blog posts, reports, and more. Google Docs templates do exist, but using them is a hassle.
If you require advanced features and want to work faster, we definitely recommend sticking to Word for its rich features. It's a heavyweight app that packs a solid punch to get you through any obstacles.
5. Compatibility
Microsoft Word is compatible with Microsoft Windows, macOS X, iOS, and Android. The desktop versions allow you to store your files in the cloud without any issues whatsoever. You can also save files locally, which is a leg up over Google Docs' strictly online storage.
Docs can be accessed through any web browser, such as Google Chrome, Microsoft Edge, and Mozilla Firefox. This allows you to use it for document writing even on unsupported systems.
Both apps let you open and edit a wide variety of file types. However, Google has a slight advantage over Microsoft in this department. Docs allow you to save what you wrote in many formats, including DOCX, ODT, PDF, RTF, HTML, TXT, and EPUB. Word Online documents can only be saved as PDF, ODT, or DOCX.
Once again — no clear winner. It all depends on what your needs are for editing different types of files and exporting documents.
6. Collaboration
While remote and real-time collaboration is possible in both applications. Google provides a simple collaborative feature – just share the document link, and others can edit it.
Microsoft is not entirely helpless when it comes to collaboration features either. With Office 365, Microsoft has implemented a shared folder system where users can share documents and projects. The downside is that everyone you want to invite to work with you in real time has to be subscribed to Office 365.
In Microsoft Word, the ability for multiple users to collaborate and edit in real-time depends on a number of factors:
Which device is each user working on

Whether all users are part of the same organization

Where the document being worked on is stored
Collaboration is a win for Google Docs. This doesn't mean that you can't collaborate efficiently in Word. However, Word loses points for a costly and complicated process.
There are 2 ways to collaborate in Google Docs, both of them simple:
Enter the other users' email addresses under "Share with people and groups," and Google will send them invitations to access the document.


Choose "Get link" to receive a link, which can be sent to other users manually.
Google Docs can track changes (comments and changes appear instantly) when two or more users are editing concurrently. This happens in real-time without considering the file storage location or device. In fact, one user can simultaneously have the same document open on multiple devices.
If you have an upcoming meeting and want to view if someone has looked at a file you shared, you'll just check out the activity dashboard in Google Docs. This will allow you to see who has viewed it, the number of open comments, and sharing history. 
7. Mobility
Mobility is directly related to the accessibility of word processors.
Microsoft Word. Microsoft Word is compatible with both Mac and Windows. You can also use its mobile app for iOS and Android mobile devices.


Google Docs. Google Docs is available everywhere, and there is a mobile app for both iOS and Android. It's exceptionally consistent regardless of the location and device used.
8. Add-ons and Plugins
Microsoft Office as a whole offers a lot of options when it comes to add-ons and plugins. Microsoft allows you to install third-party connectors like IFTTT (If This Then That) or Zaps that connect Microsoft Office with other Microsoft products and services.
For example, you can connect Microsoft Access to Microsoft Outlook or Microsoft Excel to Microsoft SharePoint. This functionality also expands to Word and allows you to create efficient workflows.
The Google ecosystem doesn't offer as many integrations at the time of this writing. You can still use add-ons to make Docs even more productive, but they are not as robust as Microsoft's. Microsoft will also update and improve their add-ons far more often, which means Microsoft Word will always be up to date.
While Docs will most likely never reach the same level of professionalism as Word, it gets close to it. If you're dedicated enough, you can mimic many Word-Esque features missing from Docs by utilizing add-ons.
Verdict: Google Docs vs Microsoft Word
Microsoft Word has, for many decades, dominated word-processing productivity. Still, with impressive new features and capabilities, Google Docs is set to give it a run for its money and probably take its position at the vertex.
User-friendly features make MS Word a preferred Word processor for most people in educational areas.
Conversely, Google Docs is preferred by tech-savvy users who enjoy remote work and working online, with the need to access to their documents on multiple devices at all times. It's ideal for remote teams, as they can collaborate on projects seamlessly.
Final Thoughts
Microsoft Word and Google Docs are excellent word processors that can be used for various purposes. If you're just using the program to write documents, then it's hard to beat Microsoft Word with its wide array of features and compatibility across all devices. But if you need something more user-friendly or want your document saved in the cloud, then Google Docs is probably better suited as an option.
Despite these comparisons, Docs still has a leg over Microsoft Word in certain places. Did you make your choice yet? After picking the perfect software, check our Help Center and Blog for guides, tips, and tricks to help you get started.
For those who want more information, sign up for our newsletter. Get promotions, deals, and discounts from us right in your inbox. Subscribe with your email address below. You'll be the first notified about our latest news and great deals you can't miss out on.
You May Also Like
» Microsoft Office vs. iWork: Which is the Best Office Suite?
» Differences Between Microsoft 365 vs. Google Workspace
» 11 Top Grammarly Alternatives for Error Free Writing in 2023
» 5 Word Functions You Never Knew Existed
» How to Delete a Page in Google Docs
» Word 2010 vs. 2013 vs. 2016 vs. 2019 Comparison Guide
»10 Best Google Docs Alternatives and Competitors 2023