Digital workplaces are the new thing in this technology-supported world. Supported by technology development and the COVID-19 pandemic, the work-from-home and remote work new normal has pushed the fast move toward digital workplaces.
Undoubtedly, digital workplaces are important resources for today's employers. Between accommodating hybrid and remote work schedules, collaboration, and breaking down information silos, virtual workplace platforms have a big impact.  
Today, thanks to digital workspaces and virtual offices, someone could be in Europe and working with a team in South America or Africa. For example, At SoftwareKeep, digital workplaces are the center of our daily operations.
I reviewed and compared top Digital Workplace platforms in this blog post using my experience, in-depth research, and available reports.
Let's dive in.
Best digital workplace software to consider 
| | | | | | | |
| --- | --- | --- | --- | --- | --- | --- |
| Bitrix | Asana | Zoho | Scribe | Monday.com | MangoApps | Iteract |
| Kissflow | Wrike | Clickup | Workgrid | Thoughtfarmer | LumApps Social |   |
Digital Workplace Meaning, Types, Benefits and Comparisons
While many consider Microsoft Office (and Microsoft 365), the ultimate productivity suite, some apps and platforms provide the ultimate digital workspace. 
So, in this section, I will provide an overview of a digital workplace, its examples, types and comparison with digital workspace.
What is a digital workplace?
A digital workplace is a virtual platform (an app, software, or collection of apps) that helps bring together the people, systems, and content within an organization to help employees do their job. 
Most digital workplaces equip employees with the tools and resources for collaboration and communication in a single digital space.
Put simply, a virtual or digital workplace is a platform that produces the physical version of a physical workplace. It's a simulated office space outfitted with collaboration and communication tools to replicate a physical workplace. But a Digital Workplace can go beyond the limits of a physical office and provides for content and knowledge sharing and collaboration capabilities.

Key components of a digital workplace
Virtual workplaces can have the following key components or features 
File Sharing Collaboration.

Task Management.

Employee Directory and Engagement.

News Feed.

Calendars and To-do list making.

Document Management (and Wiki support).

Instant Messaging and Chat Capabilities.

Discussion Forums.

Integrations with other platforms.

Customizable Branding.

Virtual digital Offices or workspaces.

Workflow & Approvals.

Mobile App.

Interactive Organizational Chart.

Reporting and Analytics.

Department Zones or channels.

Knowledge Library.

Workplace for Portal.

Live audio and Video Capabilities.

And more.
Types of digital workplace solutions
There are three general types of digital workspaces that you can choose to buy or build: 
Team-centric digital workplace.

All encompassing digital workplace.

Intranet-replacement digital workplace.
Digital Workspace Use cases  
Contractors and business partners:

Organizations increasingly use contractors or business partners to achieve day-to-day business goals. But managing third-party workers can be complicated since most aren't usually part of the enterprise. Digital workspaces provide secure access for these non-employee workers while keeping them productive and enabling simple collaboration with employee team members.

Remote workers:

Work-from-home and hybrid work models are here to stay. Digital workspaces ensure this increasingly mobile and remote workforce has secure yet simple access to the applications and data required to perform their jobs.
Digital workplace vs digital workspace
A digital workplace is a virtual office that incorporates all the applications, systems, applications and other resources companies use in their daily operations. They're essentially cloud-based platforms that act as a virtual replacement for the physical office and typically include internal communication, collaboration, file storage, engagement and content management features.
A digital workspace comprises single digital applications, platforms and tools that employees use to interact with each other and do their daily jobs. Employees can access any application from any device, regardless of their location.
For example, a digital workspace can provide instant messaging, video conferencing, and screen-sharing software features bundled in a single offering.
Combined, different digital workspaces form a digital workplace. 
A digital workplace hosts all the productivity, communication, and collaboration technologies or digital workspaces teams use daily, such as Zoom, Slack, Wikis, and project management software.
Virtual workspaces combine multiple communication and collaboration tools into one platform within a simulated workspace. 
To qualify for inclusion within the Virtual Workplaces category, a product must:
Allow users to create virtual offices spaces separated into "rooms" with dedicated purposes

Provide internal communication channels like instant messaging, video conferencing, etc.

Offer collaborative tools like screen sharing and document sharing.
Some major differences between the two are:
State.

Digital workspaces tend to be fluid, often changing, while digital workplaces can be static and fixed across the enterprise. 

Suitability.

The digital workplace is generally the same for all employees – a platform for collaboration while working apart. Digital workspaces can be tailored to individual needs and change as new tools are brought into the organization, roles change, or new business processes evolve.

Influence.

Digital workplaces strongly influence the use and evolution of digital workspaces. As employees use digital workspaces, business users and IT can determine what areas of the digital workspace can be improved for an improved collaborative experience. New tools and applications can be introduced to the workspace to enhance productivity and improve communications and end-user experience in the workplace. 
Overall, digital workplaces encompass digital workspaces. The digital workspace is where individual team members perform their day-to-day job functions. The digital workplace delivers the tools, collaboration, and communications infrastructure, enabling collaboration for diverse and dispersed teams. Beyond the digital workspaces, digital workplaces include many other components, such as advanced analytics platforms, time management, document management, and self-service HR systems.
What are the key benefits of a digital workspace?
A digital workspace provides numerous benefits to organizations. Here are some of the key advantages: 
Increased collaboration between teams

- Digital workspaces enable teams to share and access files, communicate in real-time, and work on projects from anywhere. 

Streamlined communication and workflow processes

- Digital workspaces help streamline workflows by providing unified tools to track projects, manage tasks, and assign deadlines. 

Improved productivity -Digital workspaces help teams stay organized and on task by providing automated reminders and calendar syncing features." Change to say "Improved productivity - Digital workspaces help teams stay organized and on task by providing automated reminders, creating QR codes to share useful information, and calendar syncing features.
Better organization

- Digital workspaces provide powerful search functions that make it easy to find documents or people quickly. This helps keep things organized, eliminating the need for manual data entry. 

Enhanced security and compliance

- Digital workspaces provide secure tools and features that ensure only the right people can access sensitive information. They also help organizations stay compliant with industry regulations. 
With these key benefits in mind, it's easy to see why investing in a digital workspace is important for an organization's success. 
13 best digital workplace software to consider 
Digital workspaces have become incredibly important in the modern workplace. Teams worldwide are turning to digital workspace solutions for better collaboration and productivity. But with so many options, knowing which one is right for you is hard. 
That's why we've compiled a list of the 10 best digital workplace software you should consider using. 
1. Bitrix24
Bitrix24 is a comprehensive collaboration platform offering social intranet features, document management, and task, project, and team collaboration tools. Bitrix24 provides a complete suite of social collaboration, communication and management tools for teams, including CRM, file sharing, project management, calendars, and more. It also includes free video conferencing for up to 12 people. Bitrix24 is available in the cloud and on-premise.
2. Asana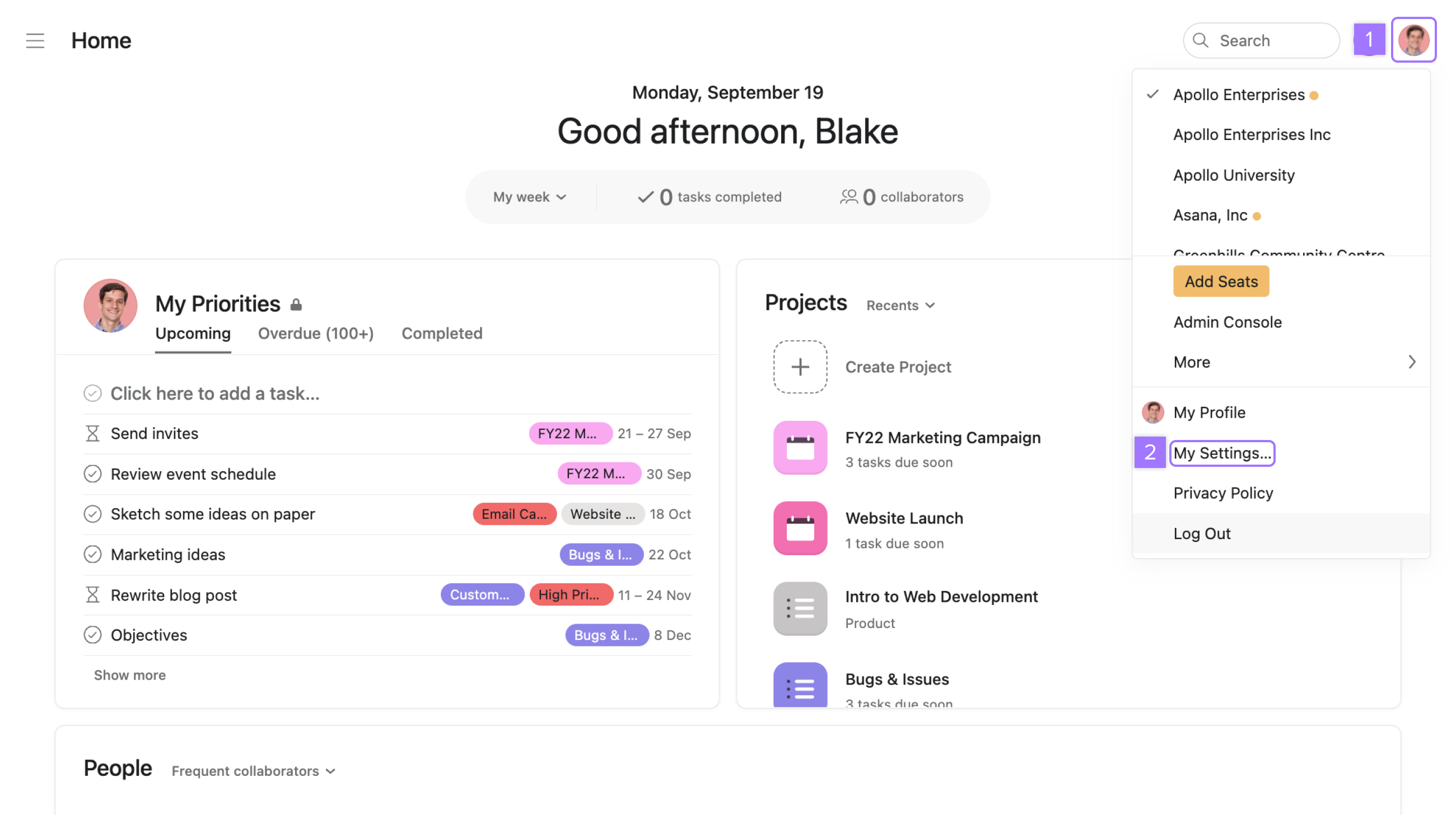 Asana is a project management platform that enables teams to create and organize projects, tasks, and conversations in one place. It includes task tracking, communication tools, and more. 
Asana is also a digital workplace software where you can connect all your work in one place and bring teams together anywhere. Organize work your way, from lists to boards to calendars and gantt charts. 
Teams across 190 countries use Asana to get more done.
3. Zoho
Zoho offers a comprehensive suite of apps for email, collaboration, analytics, chat, and more. It also includes document management tools specifically designed for the modern workplace. 
4. Scribe
Scribe provides workflow automation solutions that help teams quickly and easily create and manage projects. It also offers integrations for popular business apps like Salesforce and Outlook. 
5. Monday.com
With its intuitive interface, Monday makes it easy to collaborate on projects, track progress, share documents, and communicate with team members in one place.
Monday is a cloud-based Work OS, where teams create workflow apps in minutes to run their processes, projects, and everyday work.
Teams shape workflows and projects code-free with an adaptive platform that automates manual work and connects teams in a digital workspace.
6. MangoApps
MangoApps is an all-in-one collaboration platform that combines file sharing, project management, messaging, and more into one easy-to-use solution. MangoSuite brings employee communication, intranet, engagement, and teamwork into one unified portal. By deploying one system (rather than a patchwork of siloed tools) across the entire organization, companies can empower all employees and significantly increase productivity, engagement, and satisfaction.
7. Interact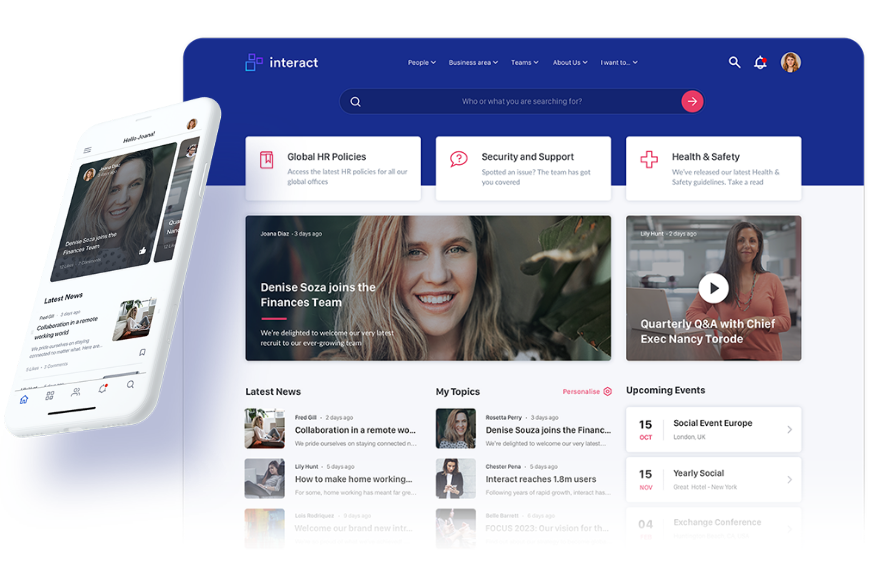 Interact offers an intranet platform with various features to help teams collaborate and stay organized. It includes tools for creating communities, content publishing, and task management. Interact is Intranet software that connects your organization, transforms how your business communicates, helps you build a more informed and productive workplace and engage your employees.
8. KissFlow
KissFlow is a cloud-based platform for creating custom workflows and automating business processes. It also has powerful features like analytics, document sharing, and task assignment. 
9. Wrike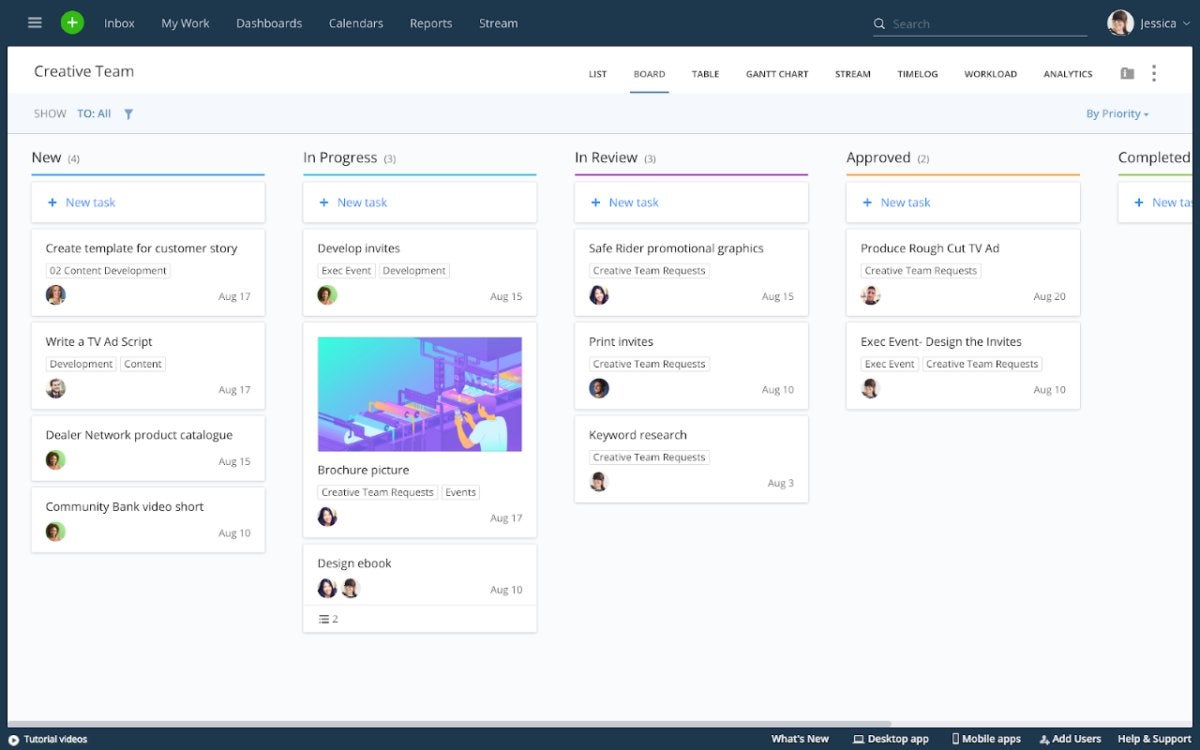 Wrike's project and team collaboration tools are designed to help teams stay organized and on track with their goals.   
Wrike is a cloud-based digital workplace with key features like shared workflows, team dashboards, performance reports, resource management, Gantt charts, Kanban boards, custom request forms, time tracking, and workload overviews. 
Wrike also includes automation with 400+ integrations.
10. ClickUp
With its powerful features, ClickUp helps organizations create more efficient workflows. It includes project templates, real-time collaboration tools, and in-depth analytics to optimize productivity.
ClickUp is a fundamentally new way to work - bringing separate apps like tasks, docs, spreadsheets, goal tracking, resources, and even an inbox, together in one place.
It's the convergence of the best productivity and collaboration apps.  
11. Workgrid
Workgrid is a powerful employee engagement platform designed to help teams stay connected. It features an intuitive user interface, reporting tools, and secure data storage. 
Workgrid provides a streamlined and effective communications platform that connects employees with the information they want and need from any device. 
By intelligently delivering personalized and contextual information per employee, Workgrid keeps employees engaged with information of their interest and relevant ce. Workgrid also enhances employee productivity and reduces the clicks required to obtain employee-specific information by consolidating everything to a simple access point.
 12. ThoughtFarmer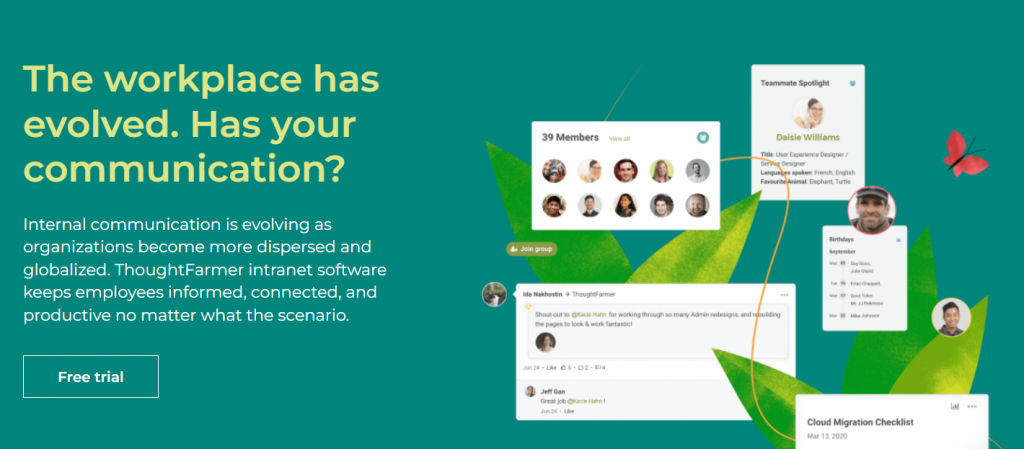 ThoughtFarmer is a social intranet platform that helps organizations promote collaboration and knowledge sharing. It includes discussion boards, task management, and file sharing.
ThoughtFarmer combines traditional intranet features like news, structured content, search and an employee directory with social software features like blogs, feeds, wikis and social network s. The result is a friendly, easy-to-use platform.
 13. LumApps Social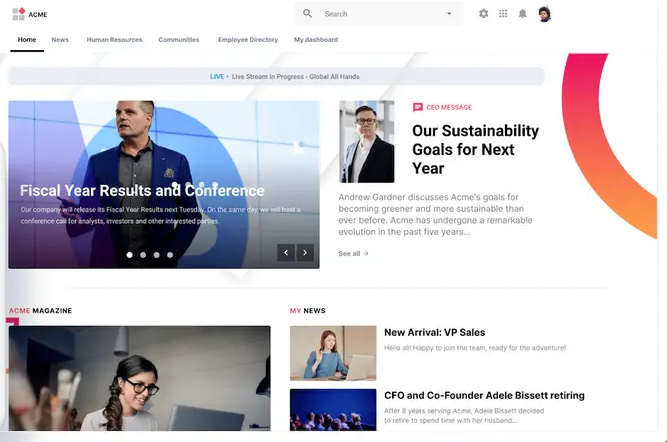 LumApps Social Collaborative Intranet helps businesses in all industries improve communications among teams and more. LumApps made a great step in the evolution of the employee intranet t. Fully integrated with Microsoft Office 365, G-Suite, and other tools, the powerful LumApps Platform lets employees connect and collaborate to create a more efficient and engaged workforce.
How to choose the right digital workspace or digital workplace
When choosing a digital workspace, there are several factors you should consider. 
Determine what type of platform best fits yoorganization'sn's needs.

Some organizations may need an all-in-one solution like MangoApps or Interact, while others may prefer specialized tools like Scribe for workflow automation. 

Consider easoftware'se's different features and ensure

it meets yoorganization'sn's requirements. Look for features like task management, file sharing, and analytics to ensure the platform can help you meet your goals. 

Research each solution to make sure it is secure and reliable.

Ensure that the software you choose complies with all relevant laws and regulations.

Test different platforms

to find out which is right for y u. Most providers offer free trials to get a feel for tplatform'sm's work before committing to it. 

Consider the cost

and ensure the software fits within your budget t. Many solutions come with additional fees, so factor those into your decision. 

 Look for a platform that is easy for you. User experience is vital for digital workspaces, as employees need to navigate the software quickly and easily. 
By researching the options available and considering the above factors, organizations can find the perfect digital workspace for their needs. Investing in reliable digital workplace software is an investment in yoorganization'sn's future.
It can help improve collaboration, communication, and productivity while ensuring everyone is on the same page. With the right platform, teams can work more efficiently and effectively no matter where they are. Don't wait any longer - find the perfect digital workspace for your organization today!
Use Truly Office for all your Office Productivity Needs
These are just some of the best digital workplace software solutions today. 
When choosing a digital workspacit'st's important to research each one in detail and find the one that best suits your organization's needs. 
You may also consider using Truly Office for all your office productivity needs. With its comprehensive suite of solutions, Truly Office helps businesses streamline their workflows and increase their efficiency.  
Further Reading
 
» 10 Best Time Tracking Apps for Mac
» 13 Best Remote Access Software [A Guide]
» 10 Top Digital Marketing Trends and Predictions for 2023
» 13 Best Microsoft 365 Alternatives and Competitors
» Benefits and Major Challenges of Hybrid Work?
» Trends of AI in Business: Uses, Benefits, & Challenges